Company
Errebielle is an Italian company specialised in cabinet doors and furniture accessories. It has has been operating for 25 years on an industrial plant of an area of over 32,000 m2, producing solid wood, veneer and MDF, cabinet doors and panels in classical and modern styles for the most important producers of kitchens, living spaces, bedrooms and bathrooms. It has become one of the leading companies in this sector for the high end of the market.
The key to our success
We have organisation and production skills typical of a A-Z manufacturing company: 60 employees, production capacity of 4000 doors per day.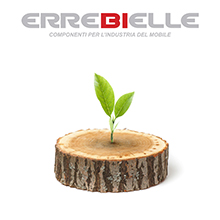 Client advantages:
We have a highly qualified, long serving staff. Our Technical Department, Research and Development and Painting Department guarantee continuity over time in terms of quality and services.
Customised products which are custom-made on the basis of our clients' requirements.
Ability to match the standards required by the market on big commissions.
A painting plant capable of offering maximum flexibility to our clients.
We have built our identity on the "excitement" of having a beautiful kitchen or a beautiful piece of furniture in the house. Experience, technology, innovation and design are the elements that characterize our work and help us building our reputation.